Chiropractor James Go D.C.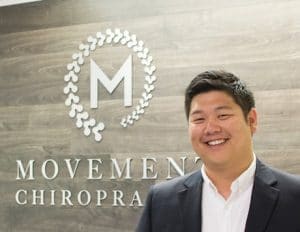 Welcome to Movement Chiropractic, the practice of Dr. James Go, serving Burke, Burke, and the accompanying Northern Virginia area. Dr. Go is thrilled to have the opportunity to share his unique knowledge and expertise in treatments for shoulder pain, neck pain, fibromyalgia, scoliosis, and sciatica with individuals and families in the local community. His ultimate objective is to provide the highest quality, most efficient care to clients from all walks of life.
Born and raised in Upstate New York, he earned a BS in Biology and a BA in Environmental Studies from Binghamton University. He later went on to attend New York Chiropractic College where he received his doctorate of chiropractic in 2007.
Dr. Go is deeply passionate about research and cutting edge technologies in chiropractic care. This is demonstrated by his commitment to education at the post-doctoral level through coursework at the Pettibon Institute for advanced spine and posture correction, certification in Structural Correction by Maximized Living. He is also active in local and national organizations, such as the American Chiropractic Association, the Virginia Chiropractic Association, the Michael J. Fox Foundation, Northern Virginia AHEC, and Northern Virginia Community College.
Call Movement Chiropractic, his Burke, VA practice, to schedule an appointment with Dr. James Go.
NEW PATIENT
Special Offer

OFFICE HOURS
---
Monday
8:30am - 6:30pm
---
Tuesday
8:30am - 6:30pm
---
Wednesday
8:30am - 6:30pm
---
Thursday
8:30am - 6:30pm
---
Friday
8:30am - 12:00pm
---
Saturday
9:00am - 11:00am